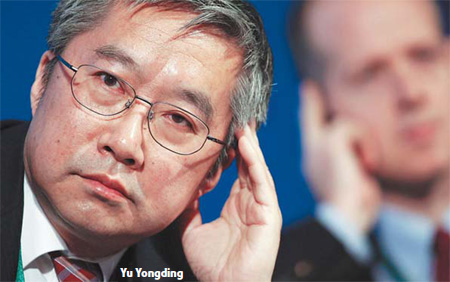 BEIJING (Dow Jones)--China shouldn't buy eurozone bonds until the region works out a permanent crisis resolution mechanism, to avoid the risk of "
turning good money bad
," a former adviser to the central bank said in an article published in a state-controlled newspaper Tuesday.
"As for the eurozone, while voicing its strong support,
China must urgently seek clarification on whether its current holdings of periphery debt will be part of any restructuring plan
,"
Yu Yongding
, a senior researcher at the Chinese Academy of Social Sciences, a major government think tank, said in the article published in China Daily.
"The State Administration of Foreign Exchange's primary responsibility to the Chinese people is value preservation (of foreign exchange reserves)," Yu said, adding "the eurozone remains an attractive investment destination."
Yu also said China will reduce its purchases of U.S. Treasurys.
Latest data showed China's holdings of U.S. Treasurys fell $11.2 billion to $895.6 billion in November, following net purchases of more than $23 billion in October, its largest position in nearly a year. The data come after China's foreign-exchange reserves rose $199.3 billion in the fourth quarter, bringing total reserves at the end of 2010 to $2.85 trillion. China is the world's largest holder of foreign exchange and the largest foreign holder of U.S. Treasurys.
-Liu Li contributed to this article, Dow Jones Newswires; 8610-8400-7713; li.liu@dowjones.com
Click here to go to Dow Jones NewsPlus, a web front page of today's most important business and market news, analysis and commentary: http://www.djnewsplus.com/access/al?rnd=tQEtaKD5hMUtDy%2BfDyNLqw%3D%3D. You can use this link on the day this article is published and the following day.
(END) Dow Jones Newswires
January 24, 2011 20:31 ET (01:31 GMT)
Copyright (c) 2011 Dow Jones & Company, Inc.- - 08 31 PM EST 01-24-11
.