Few economists forecast today's disastrous economic data:
500,000 new/initial weekly unemployment claims
and a manufacturing swing number of
negative 7.7%
from the Philly Federal Reserve region for August compared to July's
positive 5.1%
. Either the economy is failing fast or these numbers are both anomolies that struck on the same morning.
POTC
believes the equity market will head lower from here (S&P 1,078), and ripple effects through Asia and Europe will be dark.
National unemployment rate for August will post September 3, Friday. For July, the rate was 9.5%, now that rate looks to creep closer to 10% than 9%.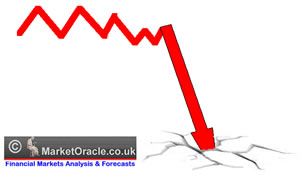 Bad memories return, trading opportunites abound ..
Back in early 2009, Obama's economic team openly stated on CNBC the national unemployment rate would not rise above

8.1%

if the
$787B

stimulus bill
pa

ss

ed; stimulus passed and we're on the verge of breaking

10%.
T

his economic Change team should resign, like the messenger of that 8.1% promise did (Peter Orszag), or be fired

for ineptitude.
With Labor Day, Thanksgiving, Christmas and other holidays just around the corner, the psychological impact of a 10%+ unemployment rate will crimp consumer spending.
Though some argue this negative data will force the Administration to extend the Bush taxes, we're not convinced after witnessing 18 months of this Change cabinet.
Nearly every policy has been to expand the government at the expense of the private sector. Holding out hope for this president to enact any market friendly measures has become more and more naive.
The longer this Administration drags its feet, the less effect it will have. If they don't do anything within one week from today (August 19), bond prices will continue to rise and stocks drop; the S&P will have a good chance to break below 1,000 very quickly in our opinion.
All of
POTC's
paying subscribers received specific suggestions on what and how to trade the scenario we see unfolding ...