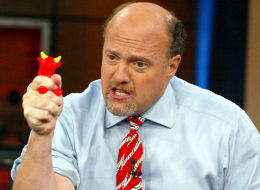 POTC
believes his
long only
advice proves he's hog tied and in a difficult position, 'butt' our
lead political correspondent,
Capitalist Pig Bob,
thinks Cramer has confused millions of investors around the world by skirting the politics of money and banking in the face of an
anti
private sector Administration until just recently. Dear Jim Cramer: you needed 1 1/2 years to figure out this big government bullshit?
We would like to hear Jim Cramer explain to his massive CNBC audience that his "Action Alerts Plus" service is one-sided and reflects a far different
behavior
than he practiced as a money manager.
Every trader must understand the market has two sides,

long

and

short

.
Sometimes the averages are
overbought
and sometimes they're
oversold.
The Street.com, who Jim is Chairman of, is doing a huge disservice by only recommending going long~
POTC
prides its research on
open-mindedness
and a two-sided market approach, so when we see Jim r spread monolithic type
(

long only
) advice, we feel obliged to call him and his Street dot com out.
IF Jim Cramer has a problem with our thesis, we are open to debate him or his staff in ANY forum any day and time of the week.
And most serious investors who tune Cramer in must be wondering WHY he finally began addressing the
anti
free-market policies of Barack Obama; something
POTC
has been blogging about successfully since early 2008; even before the Chicago Precinct Captain was elected Disseminator in Chief..
Sincerely, the
Psychology of the Call
team.